Cross Country Skiing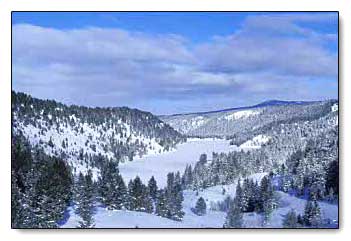 Winter brings reliable snowfall, through mid-March, along with plenty of sunshine. Our access to the cabins is over snow, by ski, from the parking area off Highway 287 (gear & food shuttle provided).
Our professionally groomed and track-set trails take you over 35km of varied terrain, not to mention miles of backcountry areas, which include telemarking opportunities.
Ski lake shores, riversides, valleys, aspen groves, old growth fir forests and wide open rolling hills with spectacular views of tall peaks. Our trails are designed for skiers of all ability levels.